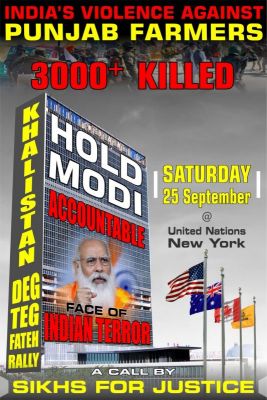 Farmers Protest || SFJ To Organize Anti-Modi Rallies From White House to United Nations
Farmers Protest || SFJ To Organize Anti-Modi Rallies From WH to UN
New York, September 12, 2021:
Proponent of Khalistan Referendum "Sikhs For Justice" (SFJ) is gearing up to chase PM Modi from White House to UN to raise ruckus over India's use of brutal force against protesting farmers of Punjab in which several hundred have already died and filing of sedition charges against their global supporters.
SFJ is planning to lobby with the White House and US Congress to "Hold Modi Accountable" for: (a) using violence against farmers; (b) suppressing the freedom of speech of the US Citizens by filing criminal charges in India for holding pro-farmer rallies at Indian Consulates; (c) and for filing sedition charges against Khalistan Referendum campaigners based in India and abroad.
Quoting the America's national slogan "Land of the Free and Home of the Brave", SFJ General Counsel Gurpatwant Singh Pannun in a video message stated that "Modi will face legal consequences for ordering violence against protesting farmers and Khalistan Referendum activists".