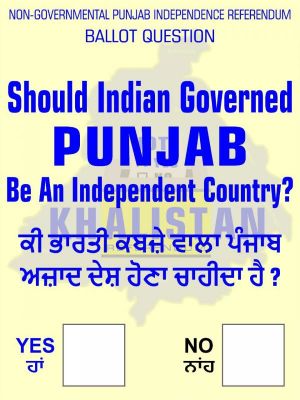 Khalistan Referendum Ballot Question Released In Front of India House London
Khalistan Referendum Ballot Question Released In Front of India House London
London, October 28, 2021.
In a direct challenge to India's territorial integrity, secessionist group "Sikhs For Justice" (SFJ)'s General Counsel Gurpatwant Singh Pannun who is camping in London to coordinate the October 31st Khalistan Referendum Voting accompanied by wanted Khalistan activist Paramjeet Singh Pamma released "Ballot Question" in front of Indian High Commission, London.
Amidst heavy contingent of London Police, Khalistan Referendum Ballot Question
"Should Indian Governed Punjab Be An Independent Country"
was loudly verbalized and recorded in front of India House.
Pointing to the Indian Flag raised at the India House, Pannun in his message to the Sikh community stated that "this tricolor is responsible for Genocide of Sikh and is now committing violence against Sikh farmers and the only solution is liberation of Punjab from Indian occupation".
"All Sikhs in UK should come out to vote on October 31 to achieve the goal of independence", added Pannun.
The Polling Booths for Khalistan Referendum Voting are being set up in Queen Elizabeth II Centre (QEII Centre) London for October 31st under the supervision of Punjab Referendum Commission (PRC) www.punjabreferendumcommission.org – a nonaligned panel of director democracy experts who have come together to monitor the procedure and tabulate the votes.
QEII Center located next to the British Parliament is an events venue managed and run by an executive agency of the Department for Levelling Up, Housing and Communities of the UK Government.
For information and questions, contact:
Gurpatwant Singh Pannun
Attorney at Law – General Counsel – SFJ