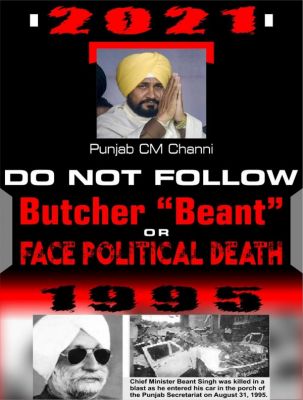 SFJ Warns Incumbent Punjab CM Channi
SFJ Warns Incumbent Punjab CM Channi
New York, September 27, 2020.
Secessionist group "Sikhs For Justice" (SFJ) warned newly appointed Punjab CM Charanjit Channi and DGP IPS Sahota to abstain from following the "policy of crushing the Khalistan movement with state violence" devised by their mentors slain CM Beant and DGP KPS Gill.
Incumbent Punjab CM Channi started his political career as protégé and snitch of Beant in 1992 while IPS Sahota was handpicked by the then DGP Gill to carryout out the policy of torture and fake encounters of Khalistan activists.
Citing the assassinations of CM Beant and PM Gandhi, SFJ General Counsel Gurpatwant Singh Pannun in his video message reminded Channi-Sahota duo that "use of state violence to crush a political movement only begets a cycle of violence which consumes its own creators as well".
"SFJ believes in liberating Punjab from Indian occupation through "Ballot Boxes" not "Tiffin Bombs" added Pannun.
Khalistan Referendum Voting is due to start on from London UK on October 31st, the day Indira Gandhi was gunned down by her Sikh body guards to avenge the June 6 1984 Indian Army attack and desecration of Sri Darbar Sahib.
In Punjab, SFJ is planning to hold Khalistan Referendum voting parallel to the 2022 Punjab Vidhan Sabha Elections posing a challenge for administration and political leadership.
https://www.youtube.com/watch?v=ZtRZxwh3evY&feature=youtu.be